Ho Chi Minh City hospitals are reporting a sharp increase in the number of children being diagnosed with encephalitis and meningitis due to the recent hotter-than-normal temperatures.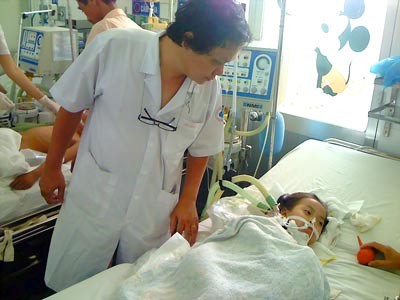 Dr. Truong Huu Khanh, head of the Children Hospital l's Neurology Department of Infection, is examining an encephalitis child (Photo: SGGP)
At the Children Hospital l's Neurology Department of Infection, 15 children have recently been admitted with encephalitis and meningitis. All are currently on breathing machines.
Dr. Truong Huu Khanh, head of the department, said the hospital has seen an abnormal influx in the number of children suffering from the two serious diseases since the Tet (lunar New Year) holiday in February this year.
The number of hospital admissions has also risen faster this week than last. Currently, nearly 60 children are under treatment at the Children Hospital 1, while two days ago there were just 40 children.
HCMC's Tropical Diseases Hospital, meanwhile, has also reported a spike in the number of childhood encephalitis cases it has seen recently, blaming the occurrence on the sweltering temperatures.
The youngest child suffering from encephalitis in the city a 13-month-old from the Central Highlands' province of Dak Lak, was brought to the Children Hospital I after suffering convulsions. But after eight days of treatment, the child's mother says the infant is still far from a full recovery.
Doctors say that if children survive the potentially fatal diseases, there is still a chance they could suffer long-term complications to their nervous systems.
Encephalitis causes swelling to the brain, usually from a viral infection. Meningitis also causes swelling of brain tissue, but can also be caused by a bacterial infection.
Dr. Tran Van Ngoc advises parents to have their children vaccinated against the two diseases at two months old and again when they are one year old.
Parents are also advised to help their children practice good hygiene to prevent such illnesses.