The market for eggs in Ho Chi Minh City was negatively affected after news broke on January 28 that a cancer-causing colorant called sudan had been found in chicken and duck eggs.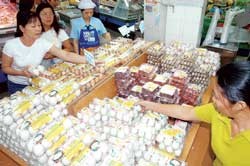 Consumers buy eggs at the supermarkets
As a result, egg consumption reportedly plummeted by up to 60%, leading to a slight drop in their price.
Huynh Huu Loi, Head of the Ho Chi Minh Animal Health Department (AHD), said that the Ministry of Agriculture and Rural Development (MARD), along with the AHD, need to keep a close eye on farmhouses, processing plants and places where the eggs are sold in order to find out where the problem arose.
He added that news of the contaminated eggs should be clarified as quickly as possible so the public does not confuse the issue with unrelated events caused by the bird flu.
Nguyen Thi Huan, Director of Ba Huan Ltd., a company specializing in the production of fresh eggs, said that the bad eggs may have been illegally imported from China and requested an investigation into their origin.
Ms. Huan also wanted authorities to determine how and why a known carcinogen was added to the salted duck eggs in the first place.
Ms Huan, with over 30 years of experience making salted eggs, added that their production only involves water, salt and ashes.
Following tests performed on eggs from markets in HCMC and some Mekong Delta provinces conducted by the Department of Sciences and Technology, authorities announced that a carcinogenic agent had been found in chicken and duck eggs, possibly finding its way into them from feed.
The tests showed that six out of 16 eggs contained over 1,000 micrograms per kg of sudan, a toxic colorant capable of damaging DNA. Others contained up to 20,000 micrograms.  The European Union considers 500 micrograms per kg to be safe for humans.