While the Vietnamese government fights to curb inflation, stabilize the macro-economy and ensure social welfare, drug prices have risen despite all efforts.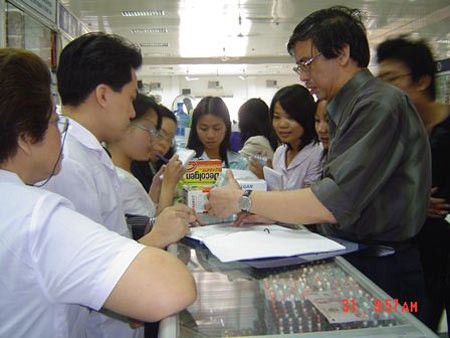 (File) Health inspectors check drug prices at a pharmacy in Hanoi
The continuous hike of medicine prices is causing anxiety to patients. A middle aged housewife was seen fretting when the pharmacist charged her VND400, 000 for her child's prescription of some antibiotics and vitamin tablets. She was worried as her child suffers from chronic bronchitis and needs regular medication which will now cost her much more.
However, not only needy patients are shocked at the increasing prices of medications but also state-run employees and average-income people. Mr. Tran Long, an employee of the Department of Foreign Affairs in the Lang Thuong ward of Dong Da district in Hanoi, was surprised that the medication that cost VND12, 000 a pack before Tet (lunar New Year) now cost VND14, 500 a pack.
As the exchange rates went up so did the price of drugs. Pharmacies in the wholesale medicine market of Ngoc Khanh, Lang Ha or Van Mieu in Hanoi have received announcement of new drug prices from distributors and importers. Foreign and domestic pharmaceutical companies have adjusted their prices especially on specific medications like antibiotics, vitamins and painkillers.
Vietnam Pharmaceutical Companies Association (VNPCA), the representative organization of more than 100 major pharmaceutical companies, said tens of various drugs are surged every month, among them, foreign-made items are raised much.
A survey of pharmacies showed that of 4,000 imported drugs, 168 had increased price markings by an average of 2.2 percent.
According to medical experts, the medicine market has seen changes because nearly 50 percent of the drugs in the country are imported and local pharmaceutical companies used 90 percent of imported ingredients for manufacturing.
The Vietnamese government needs to keep an eye on the price of goods delivered at the border before importing and control both wholesale prices as well as retail prices within the country.