This is one of the most important clauses of the National Drug Control Strategy that the government plans to launch by 2020 until 2030.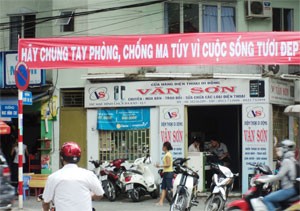 A street banner campaining against drug use in downtown HCMC (Photo: Minh Tri)
The objectives of the strategy are to prevent and repel drug related evils and reduce the number of drug addicts to a minimum to create a safe and healthy environment in the country.
Moreover, the numbers of new drug seekers will be curbed considerably as the rate of illegal drug users will reduce in; and detoxification of drugs will be organized for long-term effect.
One of the principal objectives to achieve by 2020 is to reduce the number of drug addicts to at least 30 to 40 percent; have no drug related evil in 70 percent of the towns and residential areas and 90 percent in factories, company businesses and educational centers.