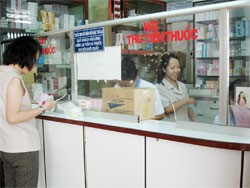 Patient buys medicines in a pharmaceutical shop (Photo: Uyen Phuong)
Prices of some pharmaceutical products have increased by 5% to 10% last week, many pharmacy owners in Ha Noi said.
Not only the imported drugs but the locally-produced drugs also rise in price. Patients, however, can relax as only newly-imported drugs increase in prices while the medicine in store is still purchased at the old price.
The exclusive distribution is the main reason for the price fluctuation. Some say pharmaceutical companies try to earn more by cutting the 10% commission for pharmacies, which has forced the retailers to increase prices to make a profit.
Secondly, the price of imported materials has risen dramatically, according to a statistic by the Viet Nam Administration of Drugs, which is the key reason for price fluctuation. For instance, Ciprofloxacin, a drug material, rises from US$19 to US$35 per kilo. Lincomycin climbs from US$25 to US$32 per kilo.
Pharmaceutical companies intentionally increased prices without the approval from the Government. Patients and customers will suffer when the Government loses control over the price tags.
Related Articles:
Viet Nam to Have Complete Check on Medicine Prices