There has been a sudden surge in the number of cholera cases to 30 – 40 daily in the last three days, an official from Hanoi's National Institute of Infectious and Tropical Diseases said on May 13. Consumption of dog meat has found to be the cause in most cases.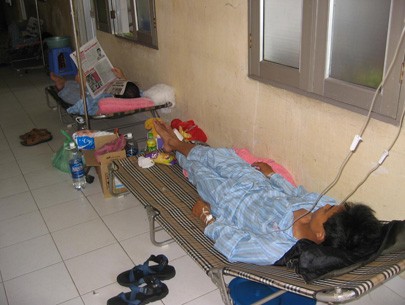 Cholera patients stay in the lobby in Hanoi's National Institute of Infectious and Tropical Diseases (Photo: TTO)
Dr. Nguyen Hong Ha, the deputy director of the Institute, said most of the victims are Hanoi residents and all come with extreme bouts of vomiting, diarrhea, collapsing pulse, and falling blood pressure.
Pham Van Tung, the deputy director of another Hanoi medical facility, E Hospital, said 40 people have been admitted with acute diarrhea, 23 of them with cholera. The situation is the same at the Dong Da Infectious Diseases Hospital.
Hanoi's Preventive Medicine Center and the National Institute of Hygiene and Epidemiology have discovered that 70 per cent of the cholera patients ate dog meat before falling ill.
Personnel from the Center took samples of dog meat from four large slaughterhouses in Ha Dong District in Hanoi and found the presence of virulent vibrio cholera virus in five of them.
Fearing the spread of the cholera to Ho Chi Minh City, the health sector is taking preventive measures.
The city's Department of Health (DoH) found a Korean tourist with a 38.5º fever on May 13 and quickly quarantined and tested him. Hospitals have been instructed to watch out for overseas Vietnam with fever and isolate them.