Health care for ethnic minority people in the Central Highlands region is improving as more trained doctors go to work at commune and ward-level medical stations, according to the Central Highlands Steering Committee.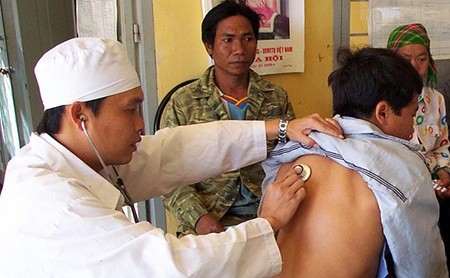 Doctors perform a physical exam for people in An Khe Town's Ya Hoi Commune in Gia Lai Province. More trained doctors will go to work in the Central Highlands region to do health chech-up for ethnic minority people.
Dak Lak was the first province in the region to have paediatric and obstetric physicians and nurses working in all of its communes, wards and towns. Elsewhere in the region, more than 66 per cent of commune and ward medical stations meet national standards.
The region has implemented many measures and policies to attract medical staff, especially doctors. However, many newly graduated doctors are reluctant to work there, as the region lacks medical facilities and infrastructure and doctors receive a low salary.
Many provinces in the region have dealt with this problem by creating preferential policies. Doctors working in "difficult" communes receive an allowance equivalent to 15 times minimum wage, while those in the remaining communes receive 10 times the minimum wage.