Concerned with the large scale spread of hand-foot-mouth disease and dengue fever outbreak in Ho Chi Minh City, Sai Gon Giai Phong newspaper organized an online question-and-answer meeting between doctors and parents to discuss preventive measures.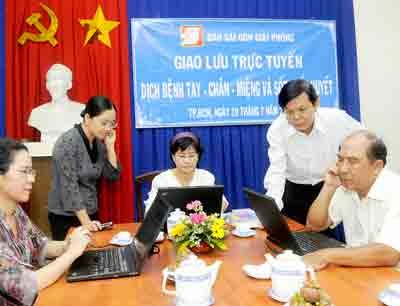 Doctors at online Q & A meeting in SGGP newspaper office (Photo: SGGP)
Parents were concerned about complications caused by late detection of a disease in children. Dr. Le Phan Kim Thoa from Children Hospital No.1 in HCMC said that late detection of a disease could cause complications such as meningitis, encephalitis and myocarditis and in some cases cause death.
One parent from district 6 said that many children in district 8 had contracted the hand-foot-mouth disease and was wondering whether she should keep her daughter at home to avoid infection.
Dr. Thoa said that hand-foot-mouth usually affects infants and children and is quite common. It is moderately contagious and is spread through direct contact with mucus, saliva or faeces of an infected person. It occurs in small epidemics in nursery schools or kindergartens, usually during the summer and autumn months. The usual incubation period is 3–7 days.
Symptoms of hand-foot-mouth disease include fever, headache, fatigue, sore throat, painful oral lesions, body rash followed by sores with blisters on palms and soles and oral ulcers. During the first phase there is loss of appetite or diarrhea. Early symptoms are likely to be fever often followed by a sore throat. There is no specific treatment for hand-foot-mouth disease. Infection in older children, adolescents and adults is normally very mild and lasts around 1 week or so.
Meanwhile dengue fever starts with a chill, headache, pain in eye movement and lower backache. Painful aching of legs and joints occurs during the first hours of illness. The temperature rises quickly with relatively low heart rate (bradycardia) and low blood pressure (hypotension). Other signs of dengue fever include bleeding gums, severe pain behind the eyes, red palms and soles, said Dr. Nguyen Thi Kim Thoa.
Dr. Thoa warned parents to suspect dengue fever if their children experience such symptoms and not to confuse these symptoms with other ailments like ear-nose-throat infections(ENT), because one 8 year old died of dengue fever but doctors confused it with ENT infection. In addition, parents should not apply traditional medicinal treatments which have proved ineffective for the disease.
Dr. Nguyen Dac Tho, deputy head of the city Department of Preventive Medicine said schools and parents should keep in close contact. Once a school detects an infected child, it should disinfect the class and equipment immediately. Parents should maintain personal hygiene for members in the family as well as clean furniture and toys and avoid contact with other children to avoid transmission, Dr. Tho warned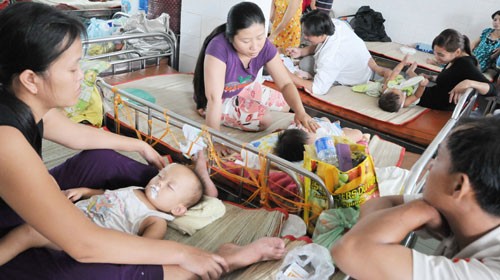 Toddlers in hospital with HFM disease (Photo: Tuoi tre)
Since early this year, 56 children have died of HFM disease with 21 deaths in HCMC. Compared to other epidemic outbreaks in the world recorded by World Health Organization, the HFM disease in Vietnam is currently on red alert and the ministry of health has laid out new stricter guide lines.
Accordingly, doctors will classify the disease into four phases. In the first phase, with symptoms of oral ulcers or skin lesions, treatment will be at home and district medical clinics will keep track of the patient. He will undergo health checks every two days for the first 8-10 days. Toddlers with high fever must be taken to hospital everyday for check ups until the fever reduces.
However, toddlers must be hospitalized immediately should the temperature rise or he has fast breathing or breathing failure, restlessness, sleeplessness, staggering and sweating.
Should condition worsen and children are unable to sit, feel weak in the limbs and suffer cranial nerve damage, they must be placed on a ventilator and medics must keep track of their pulse, breathing, blood pressure and give them Phenobarbital and Immunoglobulin.
The fourth phase is the most severe when patients are kept in intensive care units under close observation.
The Ministry of Health warns that in the absence of an effective vaccine antidote, parents must keep children away from sick children to avoid infection and infected children must be kept at home and monitored for at least 10 days.