Hanoi health inspectors made an unscheduled visit to Tu Chinh Duong, the distributor of Tam Nao Khang, following public concern over that the health supplement merely supports sufferers of cerebrovascular and heart diseases, rather than cures these ailments as the distributor has claimed.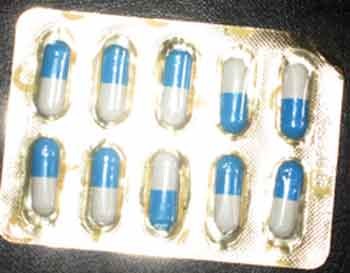 Tam Nao Khang in fact merely supports sufferes of cerebrovascular and heart diseases rather than cure these ailments as Tu Chinh Duong claims
Inspection chief Nguyen Viet Cuong said the inspection team seized some products to test the quality and ordered the distributor not to exaggerate the benefits of Tam Nao Khang, as well as not to issue leaflets falsely advertising the product's usefulness.
Recently, people in newly built residential quarters in Hanoi have received leaflets about Tam Nao Khang, advertising it as a China's traditional medicine to treat many heart diseases and prevent cerebrovascular accidents. The leaflet even describes a Chinese man regaining his health after taking the product for one year, after being gravely ill before that.
The shop on 33 Nguyen Trai in Hanoi, Tu Chinh Duong, displays the nutritional product at the cost of VND3.6 million per 300-tablet package. The shop assistant still claims that sick persons would feel better after using for less than two months.
Health inspectors promised to impose penalties on the shop, as exaggerating a product's usefulness violates the law.