The number of people suffering from diabetes in Ho Chi Minh City has doubled in the last 3 years by 8 percent and by more than 6 per cent throughout Vietnam since 2001.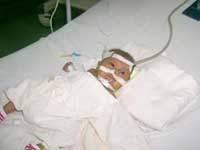 A baby treated in emergency room due to diabetes
The malady is not just restricted to adults but children too have been afflicted by the disease. Dr. Do Thi Ngoc Diep, director of the Nutrition Center in HCMC, said that Children Hospital 1 recently received two severe cases of diabetes; one was a two month old baby and the other being a four year old toddler.
According to Dr. Diep, only people between the ages 30-65 suffered from diabetes ten years ago. These days, medical workers have noted that at least 3 percent of diabetics' today range between ages 25-35.  Earlier endocrine experts had acknowledged this to be a hereditary disease, but today environmental pollution and lifestyle decadence may be the culprit.
Dr. Nguyen Vinh Quang of the National Endocrine Hospital said people today are lazy and avoid physical activity, an important part of a diabetes management plan because when you exercise, your muscles use up sugar (glucose) to expend energy. Regular physical activities improve your body's response to insulin. Moreover, people eat colossal and unbalanced diets now and often suffer from stress which causes blood sugar levels to rise.
A survey conducted by doctors at the HCMC Children Hospital showed that children between ages 5-7 (when they go to pre-school) are often diabetic. Experts claim that obese kids often develop Diabetes type 2.
The Vietnamese Ministry of Health has implemented an anti-diabetes program for the next 10 years.  Most worrisome is that 80 percent of the Vietnamese population has no knowledge as how to prevent the disease, as millions continue to contract and suffer from it. Although Vietnam is not yet ranked in the group of nations with higher diabetes rates, it is finding it a challenge to contain the disease.
Diabetics will soar to over 7 million by 2025 and people with Diabetes type 2 will account for 90 percent afflicted. According to World Health Organization, there will be 221 million diabetic patients across the globe in 2011 and 3.2 million will die from diabetes-related diseases. Every 30 seconds one person in the world has to have a lower-leg amputation because of diabetes.