Deputy Prime Minister Nguyen Thien Nhan joined 5,000 citizens in a walk at Thong Nhat Park Square in Hanoi on March 18, as part of the activities being held to mark World Tuberculosis Day.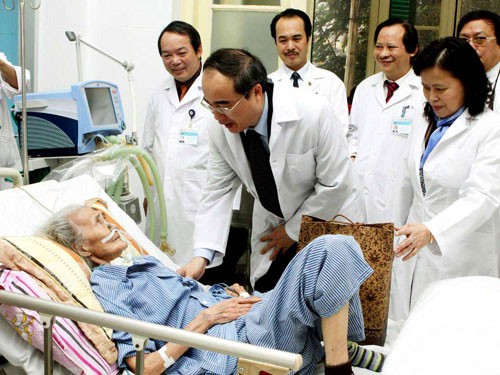 Nguyen Thien Nhan visits a tuberculosis patient in the Central Tuberculosis and Lung Disease Hospital in Hanoi (Photo: NLD)
Addressing the gathering, Deputy PM Nhan said that tuberculosis in Vietnam still poses a challenge to socio-economic development programmes as there are still large numbers of people infected with tuberculosis.
He called on ministries, departments, social and economic organisations and people of all strata to actively fight against tuberculosis in their community with an aim to eradicate the disease by 2030.
Vietnam is 12th among 22 countries with the world's highest number of tuberculosis patients, and 14th among 27 countries having the highest resistance to tuberculosis drugs.
Every year some 200,000 new cases are reported and 30,000 people die of the disease.
As many as 100,000 tuberculosis patients are diagnosed each year of which 92 per cent of them are cured. It is worth noting that the numbers of patients resistant to tuberculosis drugs are estimated at 5,000-6,000 in Vietnam.
The event was organised by the Vietnam Red Cross and the National Tuberculosis Control Programme. On the same day 500 participants donated blood for tuberculosis patients.