According to the Department of Preventive Medicine under the Ministry of Health, so far this year 26 people have succumbed to dengue fever and more than 40,000 infectious cases have been reported in the country.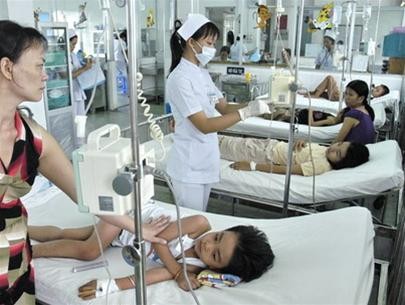 Many infectious cases in hospitals
The department informed that with 40,000 cases this year the numbers of dengue fever patients have increased by 35 percent, as compared to the same period last year.
Central and highland provinces have been the worst affected with a high number of dengue patients.
Dr. Tran Thanh Duong, deputy head of the Department of Preventive Medicine, said four stereotypes of dengue virus are circulating in the country, namely Dengue Virus 1, 2, 3, and 4.
Of all these, Dengue Virus 4 is the most widespread and has caused a pandemic, and in most cases has led to death.
Doctors have said that adults suffer more complications than children when infected with dengue fever. Currently some 120 adults are receiving treatment for dengue fever in hospitals every day, 40 percent of who are often diagnosed and hospitalized late.
Serious cases normally succumb to the fever and multiple organ failure within a week.  Many people undergo treatment in medical clinics in districts or private facilities and hence are in critical condition by the time they are transferred to central hospitals, where about 3,723 adult patients have been admitted with dengue fever since the beginning of this year.
According to the Pasteur Institute, dengue fever can be prevented if local residents maintain hygienic conditions within their homes and drastically reduce the presence of mosquitoes.
Dr. Nguyen Nhat Cam, deputy director of the Department of Preventive Medicine in Hanoi, said dengue fever is unpredictable as it happens all the year around and may break out into a huge pandemic at any time. Many middle-aged people are reported to be infected with dengue fever, even 70-year-olds, while it is rare for a person of around 40 years of age to catch the infection.
Epidemiologists said that the disease is increasing rapidly in many places in the country because there is no vaccine against the virus and a very low awareness among people.