Despite the fact that there has been no outbreaks of bird flu in An Giang province yet, the risk is very high, said Nguyen Van Phuong, Director of the province's Agriculture and Rural Development Department.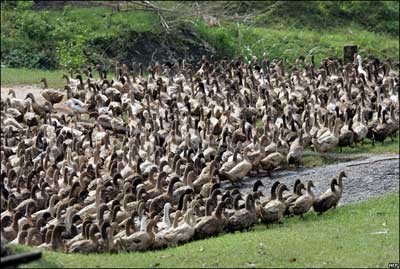 Bird flu fighting is hampered by the flocks of migrating ducks entering An Giang from other provinces
In response to the potential threat, local government agencies are taking tough measures there to curb the spread of the disease.
Teams composed of eight inspectors and backed up by veterinarians, have been established to monitor activities within local communes.
Efforts have been hampered though, by flocks of migrating ducks entering the area from other provinces.
 
In related news, four inspection groups have reported to the Ho Chi Minh City People's Committee that widespread violations are being committed, notably the illegal slaughter and sale of live poultry and, more ominously, the unregulated hatching of water-fowl at the individual farmstead level.
The situation is becoming increasingly complex as farmers develop more methods to camouflage illegal activities.
The People's Committee has instructed district agencies to promptly carry out public awareness campaigns, increase surveillance and beef up sterilization activities.
Inspectors have also been told to immediately report any human cases of the disease and quarantine the victims.
The government has called a halt to the hatching and rearing of poultry until February 28, 2007.