A woman infected with bird flu virus H5N1 died last week- marking the second human fatality from the virus in 2014, said Chief of Preventive Medicine Department Nguyen Dac Phu.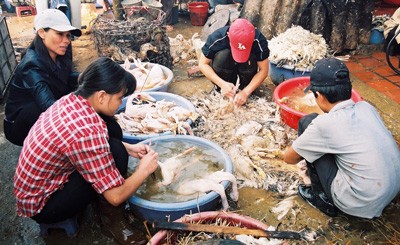 All of cases infected with the avian fluenza virus have a history of contact with live poultry.
The 60-year-old woman in Mekong Delta Province of Dong Thap was admitted to Cho Moi District Hospital in neighboring province of An Giang, suffering from fever, severe pneumonia. Then she was transferred to An Giang Provincial Hospital and died on January 28th.
The woman had a history of contact with live poultry before the onset on her illness, according to the department.
The people who had been around the woman are observing closely and the Dong Thap Province Preventive Medicine Center is put the outbreak area under control, said Mr. Nguyen Dac Phu.
This is the second human case of the H5N1 as the virus came back in 2014. Last month a 52-year-old man in Binh Phuoc Province was tested positive for the H5N1 strain of bird flu virus. He died on the way to a hospital in southern hub of Ho Chi Minh City on January 18th.
The man developed a fever and other symptoms on Jan. 11 after he slaughtered a duck bought in the village where chickens died of unknown reasons several days later.
Vietnam's last human bird flu death was reported in April last year. In 2013, there were two cases including one death, according to the World Health Organization. Between 2003 and 2009, 112 cases including 57 deaths were reported in Vietnam.