A large volume of contaminated bamboo shoots were seized by authorities in the northern province of Thanh Hoa from September 18-23, even after the Ministry of Agriculture and Rural Development had ordered specific checks on fresh and dried bamboo shoots and sea fish recently.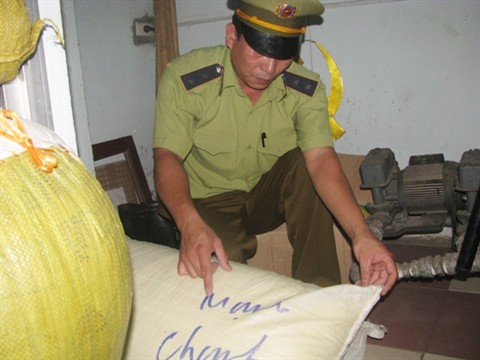 A large volume of contaminated bamboo shoots were seized
Sale of fresh and dried bamboo shoots soaked in sulfuric chemical has reached alarming levels. Hence the ministry ordered specific checks on some food items and stop their sale in markets.
The market management agencies in Quan Son and Tho Xuan Districts in Thanh Hoa Province seized 530kg of dried and 25 tons of fresh bamboo shoots that were contaminated with sulfuric chemical in excess of permissible limits and 118 kilograms of sulfur.
The dried sprouts were confiscated from two facilities run by Pham Ngoc Manh and Do Manh Hien, and tests conducted by the Thanh Hoa laboratory on Wednesday showed that the sulfur content was 100 times higher than the amount recommended by the World Health Organization, which is 20 milligrams per kg.
The two above facilities can produce an average of 50kg of dried bamboo shoots per day.
As rampant sales of contaminated foods continue in markets, the ministry asked inspectors to take samples of three food items for testing with the focus on produce from the north that mainly supplies the northern and southern markets.
Vietnam has banned the use of sulfur in food production and preservation.