A local clinic in Huong Son Ward in the central city of Hue reported on September 8 that in the last few days about 200 households living in Huong Son Resettlement Area had expressed concern about a skin infection that seemed to be caused by an unidentified insect that seemed to sting during night time.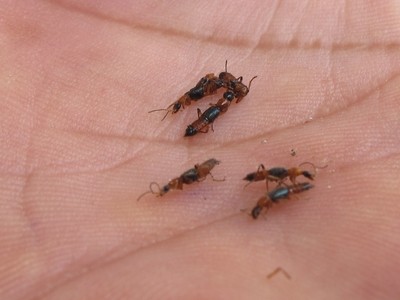 The unidentified insect causing skin infections in Huong Son Resettlement Area
Residents living in the area described the insect as being twice the size of a normal ant, with a red body, black wings, and a pointed tail.
These creatures came out mostly at night, flew around the house and could even penetrate through a mosquito net and bite people.
The insect bite stings and the skin itches and the wound festers, soon after which high fever sets in. So far it is believed that the insects generate at the same time as the harvest crop.
According to Le Thi Anh Dao, head of the Huong Son Clinic in the locality, among the five cases examined for insect bites, four were infected with Zona (officially known as Herpes Zoster). She therefore believes that the symptoms mentioned above were not necessarily caused by insect bite alone.
Dao also advised local residents in the area to seek professional help to treat the skin infection and pay more attention to personal sanitation and maintain a clean environment in their locality.