Medical experts are growing increasingly worried that the bird flu virus (A/H5N1) is showing signs of transforming into more lethal forms, since the number of cases in Vietnam since the beginning of the year is equal to all those of 2009.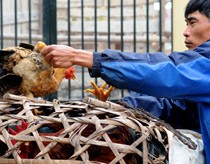 Medical workers advise people to wear protective clothing and wash their hands after coming into contact with poultry
The Department of Preventive Health and Environment, a sub-division of the Ministry of Health, has reported five H5N1 infections in the country since January 1 including two deaths. A 38-year-old woman from southern Tien Giang Province and a three-year-old from Binh Duong Province both succumbed to the illness.
Dr. Nguyen Huy Nga, head of the Department of Preventive Health and Environment, said the increase in infections highlights the complexity of the disease's development.
Health workers are also concerned over the critical condition of a 25-year-old female in Hanoi's Soc Son District who is currently being treated for bird flu at the National Tropical Disease Hospital. Unlike other cases, the woman reportedly had not had contact with diseased or dead waterfowl or eaten poultry before falling ill.
Dr. Le Quynh Mai, Head of Virus Department, NIHE said by isolating more than 300 human and poultry influenza A/H5N1 viruses in Vietnam, at least 7 groups or "clades" of the virus have been identified since this type of virus was detected in our country.

Especially it is reported that there is a evolvement of pieces of segment among genome of influenza viruses, simultaneously, we found that there is a swap and reassortment between H5N1 viruses which are circulating in Vietnam. In addition, resulting from sequencing showed that there is a rapid evolvement of these viruses and these viruses belong to the highly pathogenic viruses, segmented of genes contain antigenic drift that causing to decrease the effectiveness of antiviral medicine

Dr. Nga said that low public awareness could lead to more lethal strains of both bird flu and swine flu (A/H1N1). He warned health agencies to strengthen supervision of flu outbreaks in communities to quickly isolate infected patients from coming into contact with other people.
Residents should report to local governments immediately when chickens die or show signs of disease for unclear reasons, he said. In addition, people should wear protective clothing and wash their hands after coming into contact with poultry.
Anyone suffering fever, cough or breathing problems is advised to seek immediate medical treatment.


US to provide VN with $100,000 worth of flu-response gear

The US Government March 22 announced it would provide Vietnam with more than 11,000 sets of personal protective equipment and four laboratory kits to help health workers respond quickly to potential new outbreaks of avian and swine influenza.

The assistance package worth US$100,000 and implemented by the US Agency for International Development (USAID), comes at the request of Vietnam's Ministry of Health, with technical support from the World Health Organization.

The supplies are being sent to regional hygiene and epidemiology institutes and Pasteur Institutes and provinces throughout the country most at risk of bird flu or in greatest need of the supplies, which include such items as protective suits, masks, gloves, infection testing swabs.