Hospitals in Ho Chi Minh City organised a commemorative meeting on the occasion of the 57th anniversary of Vietnam Doctor's Day on February 27.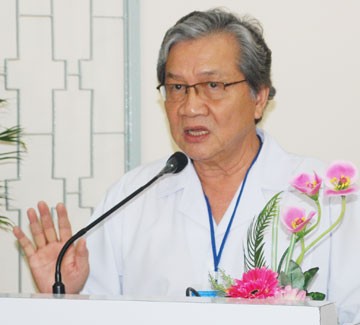 Professor Nguyen Chan Hung
Hospitals 7 A, B and Quan Dan Mien Dong held many activities to celebrate Vietnam Doctor's Day. Since 2011, these hospitals have treated over 100,000 military personnel, families in the top welfare bracket and residents in the district.
The hospitals also provided free drugs worth VND1.5 billion to more than 10,000 people from disadvantaged families from the southern provinces of Binh Phuoc, Long An, Tay Ninh, the central province of Binh Thuan, the highland province of Lam Dong and also several Cambodian nationals.
In related news, city leaders continued their visits to senior doctors, applauding them for their contributions to the health sector.
Nguyen Thi Quyet Tam, deputy secretary of the City Party Committee and chairwoman of the City People's Council visited Professor Nguyen Chan Hung, Professor Nguyen Dinh Hoi, and Professor Van Tan on the occasion to wish them and express gratitude for devoting their lives to the health sector and for their valued training of young doctors.