The Preventive Medicine Center of Ho Chi Minh City is ready for its free vaccination plan against five diseases starting on June 1, deputy director Nguyen Dac Tho said May 29.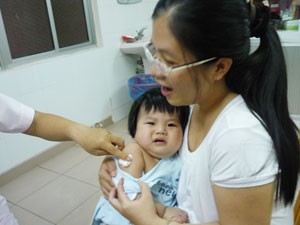 A child gets vaccination in Ho Chi Minh City (File photo: K.Kh)
The 5-in-1 vaccine is against Diphtheria; Tetanus; Pertussis (whooping-cough), hepatitis B and haemophilus influenza.
The plan targets babies born on April 1, 2010 and later.