The Ministry of Health announced on September 4 that the new medical fees will be applicable from September in most of the central hospitals.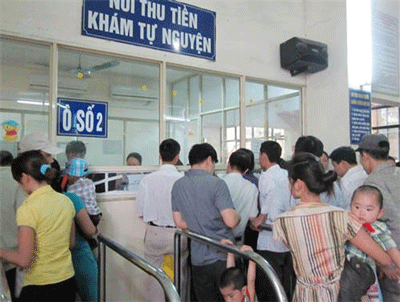 Patients queuing to pay their medical bills
Central hospitals will hike their fee in September along with the National Hospital of Pediatrics; the Vietnam National Institute of Gerontology; the National Hospital of Tropical Diseases; Cho Ray Hospital; Thong Nhat Hospital; the National Hospital No.74; the National Mental Hospitals No.1 and No.2; Huu Nghi Hospital; the Da Nang C Hospital; the Thai Nguyen Central General Hospital; the Can Tho Central General Hospital; the Vietnam-Cuba Friendship Hospital-Dong Hoi branch; the Hue National Hospital; and the Le Huu Trac National Institute of Burns.
Other central hospitals that have already applied the new medical fees include the Bach Mai Hospital; the National Institute of Hematology and Blood Transfusion; the Vietnam National Cancer Hospital; the Vietnam-Sweden Hospital in Uong Bi; and the National Tuberculosis Hospital.
Most of the medical fees in these hospitals will increase by 90 percent.
Statistics of the Ministry of Health show that nearly 50 provinces nationwide have approved of the new medical fees to be applied in 2012. Among them, the northern province of Lao Cai has agreed to an increase of 99 percent while major cities like Hanoi, Ho Chi Minh City and the central city of Da Nang have not yet announced the new fee.
According to Nguyen Nam Lien, Deputy Director of the Planning and Finance Department under the Ministry of Health said that after six months of applying the new medical fees, hospitals in the country will undergo a stringent inspection for its practical use.
Following this assessment, any hospital without proper medical services will decrease fees immediately.