Hanoi Department of Environment Police in cooperation with Market Management Department September 9 checked four moon cake producers at Xuan Dinh village, Tu Liem district, aiming to find and seize substandard moon cakes, which may be harmful to consumer health.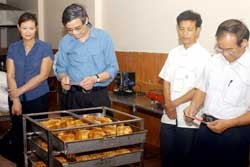 Ha Noi Food Hygiene and Safety Department inspectors check moon cakes at the Gia Tien Company in Gia Lam District. (Photo:VNA)
According to inspection, two moon cake manufacturing workshops in the village did not implement medical examination for their workers.
The inspectors inspected another moon cake manufacturing workshop and seized a mount of moon cake materials, which were found expired date and without origin.
In addition, the inspectors found another producer not have certificates of food safety and hygiene conditions.
Moon cakes produced at District's big workshops failed to meet food safety and hygiene conditions, said the inspectors.
Viet Nam Food Safety Science and Technology Association scientist Tran Van Ky said many of the moon cakes produced by seasonal producers on sale in the city's markets were baked from the cheapest materials and did not meet food hygiene and safety standards.
Consumers have been advised to buy only moon cakes from recognised producers, with packaging including expiry date and full food hygiene and safety information.