Due to spreading of Porcine Reproductive and Respiratory Syndrome Virus (PRRSV) – also called "Blue Ear" –occurring in pigs in many places in the country, the government forbade transportation of the animal from affected areas to other districts. Despite the ban, people surreptitiously took pigs to sell in market or to roast them.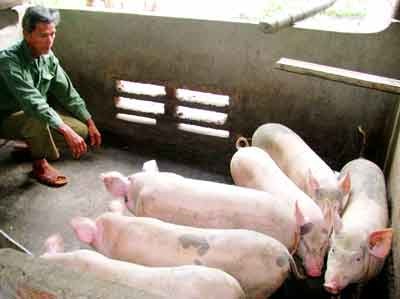 Pig breeders  in despair as their herds contracts the disease (Photo: SGGP)
Transportation of pigs from affected regions raised public concern because it allowed diseased pigs to mingle with healthy ones, which would be sold in markets, causing harm to customers as well as transmitting the virus to other regions.
Unaware residents of district Vinh Cuu in the southern province of Dong Nai have furtively sold diseased pigs at cheap prices or have brought them to other districts. 

Moreover, they feed fishes with diseased pigs, throw bags of pigs into canals or rivers, not realizing these practices cause the disease to spread to the rest of the herd, as well as cause damage to the environment.
The local government's efforts to raise farmers' awareness and strengthen inspection went unrewarded; people continued throwing diseased pigs here and there. The province has 22,000 pigs. 40 households have reported that 1,115 pigs are infected with the virus.
Vets of the Department of Health Animal in Ho Chi Minh City's district Binh Chanh discovered a herd of Nguyen Thanh Xuan's with symptoms of the epidemic, while spraying disinfectants to clean the environment on August 11. Inspector chief Le Truong Hai affirmed that Ms. Xuan's 17 pigs are infected, including four dead and five dying and her neighbors' herd suffering similarly.
The city has destroyed 213 pigs of 18 households in district 12. The Department of Animal Health said the city has 360,000 pigs, though illegal imports of diseased and dead pigs take place everyday. The department advised that the vaccination against infectious diseases be stepped up, fearing the threat to other provinces, while no available vaccine has proven effective in preventing the blue ear virus.
The epidemic in the central city of Danang became serious because the government did not announce the pandemic publicly, so despairing breeders sold pigs at very low prices and threw dead pigs into rivers and fields. Meanwhile, the central province of Quang Nam has 15,000 infected pigs and vets have killed 5,000 of them.
The highlands province of Lam Dong said the outbreak has infected half of the herds in the province. Vets have buried all animals found to be infected. The government will give farmers VND17,000 per kilo of meat lost as compensation.