Porcine Reproductive and Respiratory Syndrome Virus (PRRSV) – also called "Blue Ear" – has occurred in pigs in Ho Chi Minh City, warned a health official on August 5.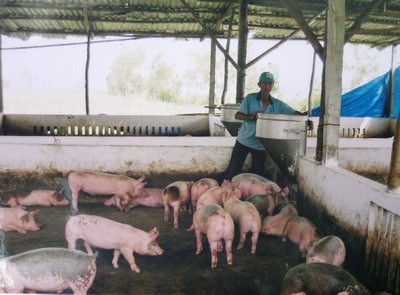 Good feeding is one way to prevent pigs from contracting the epidemic
Phan Xuan Thao, head of HCMC Animal Health Department, said pigs in some households in district 12 were found to have the virus; therefore, 194 pigs were destroyed to curb the disease from spreading. Breeding farms in district Cu Chi are at high risk for contracting the disease.
The city liaised with neighboring southern provinces Dong Nai and Binh Duong to test pigs from other provinces. If vets find pigs to be unsafe, the city would stop diseased pigs from entering the city, Mr. Thao said.
The southern province of Binh Phuoc claimed tests proved 72 pigs in district Bu Dang had contracted the disease, said deputy head of the province's Animal Health Department Tran Van Phuong. The province had killed 30 pigs before.
Quang Nam authorities are pleading for help as spread of the disease has already become rampant, wiping out many herds in the province's districts Dai Loc and Dien Ban. 9793 pigs were infected with the disease and vets destroyed 2,572.
Meanwhile, the highlands province of Dak Lak discovered seven outbreaks of blue ear in pigs in districts Ea Kar, Krong Pach and Buon Me Thuot City.

The government will provide each breeder who has lost their pigs to the epidemic with VND25,000 for each kilo of meat lost.