After failing to save a child from serious injury, Dr. Dinh Tan Phuong of the emergency ward of Ho Chi Minh City -based Pediatrics Hospital invented practical medical equipments and scientific initiatives in attempt to save life of children.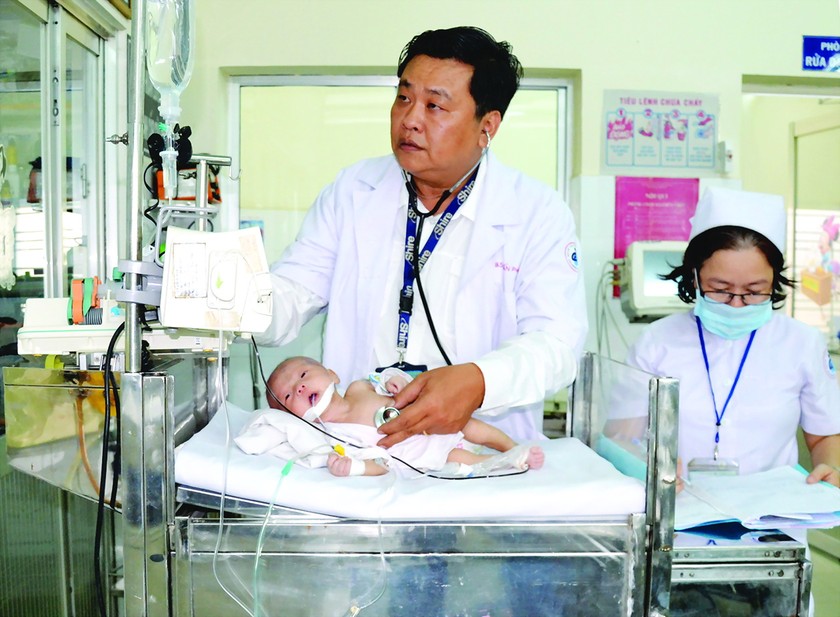 Dr. Phuong is treating a baby ( Photo: SGG)
Dr. Phuong remembered case that he failed to save the child whose chest was thrust with a sharp stick when he fell down into the fence. Despite Phuong's efforts to save him, the child was drawing his last breath on Phuong's arm.
Dr. Phuong burst into tear as he was unable to save the child.
The story took place ten years ago but Dr. Phuong still remembers clearly as it just happened yesterday. Accordingly he was scratching her head over how to help medical workers clear formality to act as quickly as possible in the golden hour (also known as golden time) which refers to a time period lasting for one hour following traumatic injury being sustained by a casualty or medical emergency, during which there is the highest likelihood that prompt medical treatment will prevent death.
The hospital management board has given the green light to his new procedure named "Red Alert" which all forces from safe guards clear the way; blood bank is ready to supply blood during the operation; medical workers are ready for the surgery.  Thanks to the new procedures, many children in critical condition have been rescued.
Realizing that it is a long distance from the emergency room to wards or from the hospital gate to the emergency room, if patients are moved on a normal stretcher without machine or not warmed enough, it will reduce their chances of survival; Dr. Phuong came up with a multi-purpose vehicle to transfer children. 
Since then, he was absorbed in technical drawings and frequented Dan Sinh and Nhat markets and mechanical stores to seek proper mechanical parts for his invention.
At last the multi-purpose vehicle has come out. It not only has machines and drawers to contain patients' medical record but can be folded neatly.
The special vehicle has won the first prize in the creative science technical competition. It has then used in many medical clinics in Ho Chi Minh City and hospitals in provinces.
In addition, Dr. Phuong also have other medical initiatives including table to take blood for testing, special LED lamp in operation room, medical box for emergency cases.
Upon his invention, Dr. Phuong just said he tries his best to save children, adding that he must thank the support of the hospital management board and colleagues for his initiatives.