Tra Vinh has become the sixth province in the Mekong Delta to report bird flu outbreaks in ducks, the Veterinary Department under the Ministry of Agriculture and Rural Development said yesterday.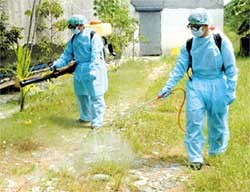 Health workers spray disinfectants to prevent bird flu in Cu Chi District, Ho Chi Minh City
The department said samples taken from the dead ducks in a hamlet in Binh Minh District had tested positive with the lethal virus H5N1.
 
Since the recurrence of the virus in early December in the Mekong Delta, the virus has by now affected six provinces there, including Bac Lieu, Ca Mau, Hau Giang, Kien Giang, Vinh Long and Tra Vinh.
 
In order to prevent the reccurrence of avian influenza, localities all launched vaccination campaigns and nearly two million poultry heads were vaccinated as of Jan. 12.
 
In the past few days, the epidemic has killed chickens in Vinh Long province, forcing local authorities to cull infected poultry and vaccinate 1.85 million poultry.
 
Meanwhile, the People's Committee of Ho Chi Minh City has ordered concerned authorities to strengthen measures against avian flu outbreaks and flu type A H5N1 in humans in the city.
 
Accordingly, The Ho Chi Minh City Steering Board of Bird Flu Control will disinfect poultry farms and slaughter houses from now till the end of this month, and carry out strict inspections on trades of live poultry and poultry of unknown origins, and illegal slaughters in order to ensure early detection and a timely response to any arising incidents.
 
The city's Health Department said 160 isolatied beds have been prepared in four hospitals to receive those who may be infected with the flu type A H5N1.
 
The Department also has prepared facilities, equipment and medicine for the prevention of the disease.