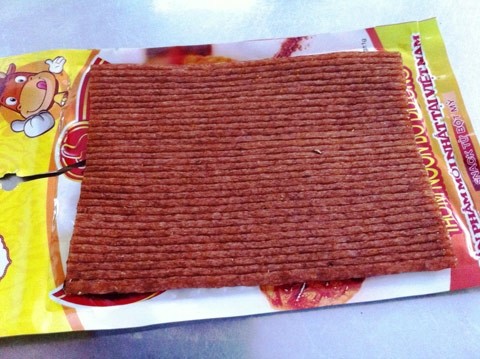 Beef jerky labeled "Spicy side of beef" is in fact made from wheat flour
Beef jerky is made from wheat flour not sponge foam, confirmed Nguyen Nhu Tiep, Director of the National Agro-Forestry-Fishery Quality Assurance Department at the Ministry of Agriculture and Rural Development, on November 5.
Following rumors that fake beef jerky sold in Hanoi markets was made from sponge foam, the Department had asked its subdivision in Hanoi to test some samples.
Test results showed that the product was labeled 'Spicy side of beef' and ingredients listed to include wheat flour, water, vegetable oil, sugar, salt, chilli, monosodium glutamate and food additive.
Therefore the product violated food safety regulations because it contained no beef as announced on the label.