Three days after the Food Hygiene and Safety Department ordered the seizure and destruction of "Fluorescent lollipops" that contain a cancer-causing substance in their sticks, vendors are still selling the candy in Ho Chi Minh City and Hanoi.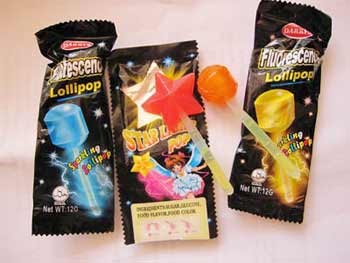 "Fluorescent lollipops," which contain polyaromatic hydrocarbon (PAH), a toxic substance that can cause cancer. (Photo: congthuongonline)
Cartons of the lollipops, containing 20-30 each, are still being sold at HCMC's Binh Tay Market in District 6 as well as in front of some schools and hospitals including: Ho Thi Ky Primary School in District 10; Tran Boi Co Junior High school in District 5; Children's Hospital I in District 10; and Pham Ngoc Thach Hospital in District 5.
The lollipops can also be purchased from independent street peddlers for just VND2,000 each.
"As of yet, we have not received any documents on banning the trade of this candy, so it is very hard to prevent traders from selling it," said Pham Ngoc Trung, an official from the Binh Tay Market Management Board.
On March 29 in Hanoi, a joint inspection team found four boxes of the lollipops for sale at a stall on Hang Giay Street. The stall owner, Mr. Do Van Minh, failed to produce any documentation or invoices to prove the origin of the product.
Mr. Minh said he had bought the box of 20 lollipops for VND20,000 earlier in the day.
 
On March 26, the Health Ministry's Food Hygiene and Safety Department ordered its units nationwide to quickly seize and destroy the candy, which lists no manufacturer or place of origin. 
The lollipops' sticks glow due to the presence of polyaromatic hydrocarbon (PAH), a toxic substance that can cause cancer.

Related article:
Health Ministry orders seizure, destruction of toxic candy