The Department of Food Safety & Hygiene (FSH) in Ho Chi Minh City under the Department of Health yesterday said that 4 samples of bamboo shoots sold in markets in the city have yellowish artificial coloring agent or diarylmethane (Auramine O).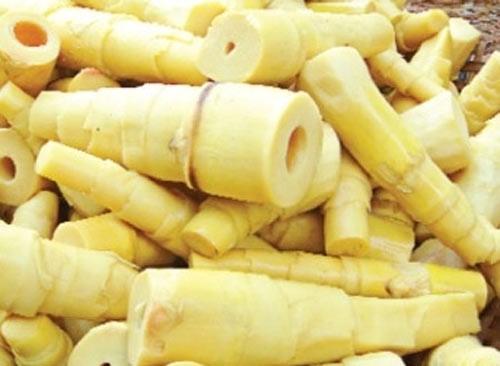 Samples of bamboo shoot have cancer-causing agent through testing (Photo: SGGP)
Before, the FSH took fresh and dried bamboo shoots from 2 markets in the city for testing. Tests conducted by the Institute of Hygiene and Public Health under the Ministry of Health showed that all of four samples have yellowish artificial coloring agent (Auramine O).
The content of the agent in two dried bamboo shoots exceeds the allowable limit with 11.84µg per kg and 41.35µg per kg while two fresh samples have 17.06µg per kg and 3108.94 µg per kg.

To protect customers' health, the FSH inspected and investigated the source of fresh & dried bamboo shoots.
At the same time, the Department and the municipal inter-departments of food safety sent a document to the department of Agriculture and Rural Development ordering a strict inspection and issuing penalties to business selling fresh and dried bamboo shoots which use the dangerous agent.

Traders add yellow color to bamboo shoots and vegetable pickles to make them look attractive. Auramine O is a diarylmethane dye soluble in water, which can cause cancer if it is consumed by humans over time.