A recent investigation of all Ha Noi-based hospitals has revealed a shocking truth, the Bach Mai Hospital, the biggest hospital in the city, has sold tons of medical waste to people who use it to make household utensils and, more shockingly, the hospital even bought a grinding machine to convert said waste into a more profitable form.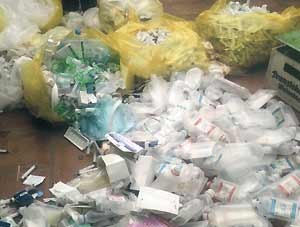 Used syringes, tubes and other medical plastic are sold to make household utensils
Bach Mai Hospital is the biggest hospital in Ha Noi city, and it has been producing an enormous amount of medical waste each month.

Officials from the Environmental Police Bureau discovered that a large number of used syringes, tubes, and other medical plastic were brought to the hospital's antibacterial department where they were processed with chemicals and ground up by the hospital's grinding machine.
They were then sold at VND10,000 per kilogram (which is VND4,000 higher than the price for unsterilized medical waste).

According to an official from the Dien Bien Provincal Department of Environmental Resources, Viet-Duc Hospital and Bach Mai Hospital are just two hospitals among many who resort to similar practices for financial benefit.

Most local hospitals have a limited budget for medical waste treatment. Therefore, many of them choose to simply dump the waste or sell it in order to save money.

Colonel Luong Minh Thao from the Public Security Ministry's C36 Division said that the current situation is also due to the fact that the Government has not imposed any appropriate punishment on those offenders. Therefore, he recommended that any hospital which sells three to five tons of medical waste should be treated criminally. And, he added, they should receive strict punishment from the Government. 

Related article:
No Medical Waste Can Be Recycled