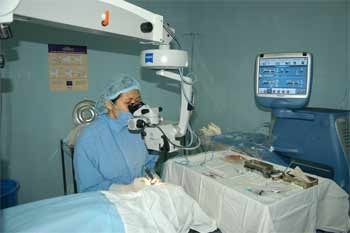 A HCMC Eye Hospital doctor carries out an operation (Photo: U.Phuong)
The Australian Consulate General in Ho Chi Minh City gave VND250 million (US$16,000) to the city's Sponsors Association for Poor Patients on Wednesday to restore the sight of poor people blinded by eye cataracts.
Donated on the 35th anniversary of diplomatic relations between Australia and Viet Nam, the money will pay for remedial surgery at the HCMC Eye Hospital on 500 cataract sufferers who live in the city, Tay Ninh Province next door and Binh Thuan Province on the lower central coast.
An astonishing 300,000 blind people have had their sight surgically restored under the association's "Bringing Light to Poor Patients" program in the eleven years since it began.
The next round of cataract operations at the HCMC Eye Hospital should be completed by early May.