Around 1,200 Vietnamese women are detected to have ovarian cancer in late stage, said a seminar "Anti-biotic therapy to improve ovarian cancer and cervical cancer" held by the Vietnam's Cancer Association and Tumor Hospital in Ho Chi Minh City.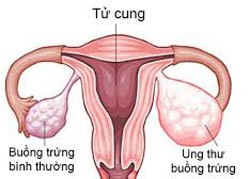 Illustrative photo:SGGP
Chairman of the Vietnam's Cancer Association Dr. Nguyen Chan Hung said that fresh cases of ovarian and cervical cancers in late stage account for 10 percent but the mortality rate of ovarian and cervical cancer cases is very high and a few of them receive proper treatment.

Additionally, the mortality rate of ovarian cancer is highest amongst gynecological cancers because it is mistakenly diagnosed as digestive diseases; accordingly patients were detected in late stage.

Furthermore, cervical cancer is the second most popular in the country with more than 5,000 fresh cases per year. Cervical cancer is caused by HPV (Human Papilloma Virus), which transmits the disease through sexual activities.

Though the screening and vaccination HPV are carried out widely, cervical cancer is still one of the cancers to cause most deaths in the country with over 2,400 deaths a year.

To encounter the two diseases, Vietnamese and international experts highly lauded the treatment with Bevacizumab - a humanized anti-VEGF monoclonal antibody. This is an advanced therapy in treating cervical cancer which has been applied in the world since 2014.