According to the Department of Preventive Medicine under the Ministry of Health, a second case of a bird flu death this year was reported on February 2.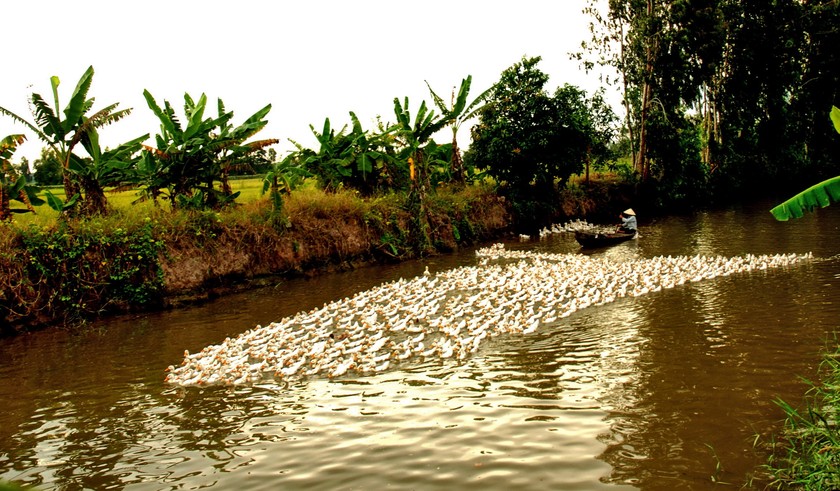 People in Mekong delta tend water fowl (Photo: U. Phuong)
A 26-year-old woman from Thanh Tri District of Soc Trang Province was admitted to the district hospital with a fever and cough.
After two days, when her condition did not show signs of improving, her family moved her to the General Hospital in the Mekong delta province of Bac Lieu.
Doctors at the General Hospital diagnosed her with viral pneumonia. However, she could not recover and died on January 28.
Tests conducted at the Pasteur Institute in Ho Chi Minh City showed she had been infected with Influenza A virus subtype H5N1, also known as "bird flu".
According to a recent epidemiological investigation, the patient had slaughtered and eaten infected meat. In her neighborhood, a huge number of infected poultry had just died.
This is the second person to succumb to the H5N1 virus in the Mekong Delta this year. The first case was of a 16-year-old boy working at a duck-breeding farm in Kien Giang Province.
The Ministry of Health has directed the Department of Health in Soc Trang Province to strengthen anti-epidemic measures, monitor cases and prevent the disease from spreading further locally.
The ministry also warned people not to consume diseased water fowl and report any such reports to the local government.
Moreover, they must drink boiled water and hygienically cooked food, as well as wash their hands with soap before meals. Whenever they suffered a fever, cough or respiratory problems, they should seek timely medical help at a nearby hospital.