An increasing number of people are now suffering from cancer, acute and chronic respiratory diseases and allergic reactions in big cities in Vietnam as a result of air pollution.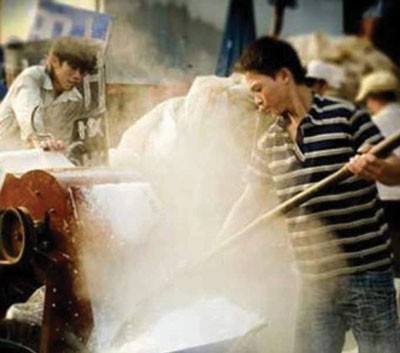 (Photo:SGGP)
One man from the northern province of Ha Nam was hospitalized for a long lasting chronic cough and breathing problems. Doctors discovered that he was actually suffering from chronic obstructive pulmonary disease due to polluted air.
The Hanoi-based Central Lung Hospital said that 95 percent patients suffer from chronic obstructive pulmonary disease because they live in a polluted environment. These days, more and more people are beginning to contract the disease which is worrisome.
Dr. Nguyen Kim Cuong from the Hanoi University of Medicine said the alarming increase in chronic obstructive pulmonary lung conditions and asthma cases in recent years was linked to worsening conditions in living environment, with air pollution being one of the primary causes.
According to the World Health Organization, the rate of chronic obstructive pulmonary patients is 5-15 percent in the global population and in some nations even upto 20 percent.
In Vietnam, studies of the Central Lung Hospital, Bach Mai Hospital, Cho Ray in HCMC and Can Tho Hospital in the Mekong Delta, show that seven percent of the population has contracted chronic obstructive pulmonary disease and this figure is showing a definite upward trend.
As per a study by the Ministry of Health, of every 100,000 people, 4,100 or 4.1 percent have lung diseases; 3,800 contract inflammation of the throat and tonsils; and 3,100 have bronchitis.
Most worrisome is that people in the working age group are the ones most often affected by air pollution.
Environment pollution is one of the causes of so many dangerous diseases. Nguyen Tran Hien, Head of the National Institute of Hygiene and Epidemiology, said dengue fever and hand-foot-mouth disease are born as a result of water and environment pollution. An environmental monitoring in Hanoi showed that dust pollution in air is 11 times higher than acceptable levels.