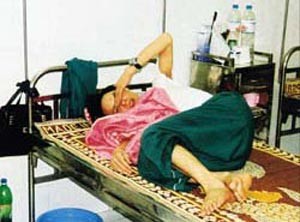 An AIDS patient in a community hostel
The Global Fund to Fight AIDS, Tuberculosis and Malaria will give Viet Nam US$10 million from 2008 to 2010 to fund treatment and other services for AIDS sufferers and try to prevent the disease from spreading.
The money, which will be disbursed by the Health Ministry's Administration of HIV/AIDS Control, will be used to pay for medicines and other treatment as well as services for the afflicted, and to spread awareness of the disease among high-risk populations.
In particular it will be used to fund the clinics that provide care and counseling to ease the pain of AIDS sufferers, the vast majority of whom are isolated from the community.
Besides the AIDS money, the Global Fund will give more than US$1 million for the Health Ministry's campaign against tuberculosis. The campaign in the 20 most vulnerable provinces and cities has been going since 2004.