An agreement on US$15-million non-refundable assistance to prevent contagious diseases was signed by State Bank of Viet Nam and Asian Development Bank (ADB) on April 7 in Ha Noi.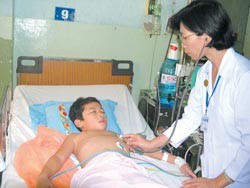 A dengue-fever patient is treated at Children Hospital No.2 in Ho Chi Minh City

The agreement is a part of the infectious disease prevention project of open Mekong River Sub-Region, sponsored by ADB, which has been carried out in Viet Nam, Laos and Cambodia.
The total capital invested in Viet Nam reaches US$20 million, of which US$15 million provided by ADB, US$0.45 million contributed by World Health Organization (WHO) and US$4.55 is from the Vietnamese source.
The money will be spent on strengthening the national system of epidemic prevention and coping with high-risk diseases such as dengue fever, Japanese encephalitis, bowel complaint and HIV/AIDS.
The project will be implemented from 2006 to 2009 in four epidemic and hygiene institutes and 15 provinces and cities.