At the eighth voluntary blood donation in Hanoi yesterday, the organization board hoped to collect around 5,000 blood units (1 unit =250ml) to save patients.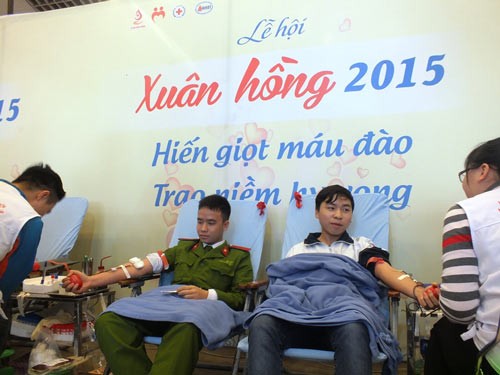 Young people at the event (Photo: SGGP)
The biggest voluntary blood donation was yesterday held in the My Dinh national sports complex in Hanoi by the National Institute of Hematology and Blood Transfusion (Vietnam) and the Youth Association in Hanoi.
With the message of " Donating a drop of blood means giving hope", the event is expected to receive around 5,000 blood units including 4,000 blood type O and type A to overcome the shortage of blood after the Lunar New Year ( or Tet holiday).
Head of the Voluntary Blood Donation Steering Board Nguyen Thi Bich Ngoc, deputy secretary of the Party Committee cum Deputy Chairwoman of the Hanoi People's Committee, said that the event shows its humane feature to encourage people to donate their blood for saving patients.
Speaking at the event, Deputy Health Minister Nguyen Thi Xuyen said that the organizers have prepared considerately and provided full information of the meaning of blood donation to evoke love among people.
On behalf of the Party and the government of Hanoi,  Secretary of the Municipal Party Committee, Pham Quang Nghi beat a drum to open the event.
Thousands of young people participated in cultural and musical activities and folk games during the event.