The Ministry of Health, Vietnam Social Insurance, and Vietnamese Women Association yesterday gave 4,000 health insurance cards to households whose economic conditions are close to the poverty line in the northern province of Thanh Hoa.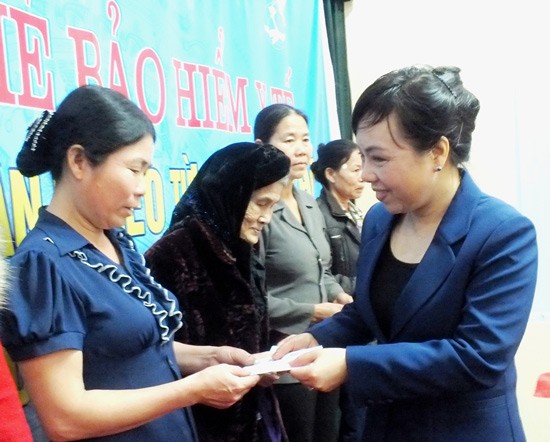 Health Minister gives health insurance cards to poor people in Thanh Hoa Province (Photo: SGGP)
Health Minister Nguyen Thi Kim Tien said that for years, the Party and the government have issued many social security policies to encourage the poor, the close-poverty-line people, ethnic minority people, children below six years old and beneficiaries of social policies who can access medical services in district clinics.

By 2014, the country has over 64 million insurance card holders, accounting for 71.6 percent of the whole population.

Moreover, the poor, ethnic minority people in disadvantaged districts, children under six and families in serving the cause of the nation's revolution are given free insurance card holders funded from the state's budget.

According to the Vietnam Social Insurance's report, in 2014, around 3.2 million families were ranked close to the poverty line over 5.1 million insurance participants, an increase of 20.2 percent compared to 2013. Still, around 40 percent of them have not paid for medical insurance though they receive support from the government of 70 percent of the service's fee.

Some families can not afford the remaining of 30 percent (or just VND200,000 ) of health insurance. Accordingly, local governments call for contribution of all sources to support the remaining percent.

In addition, the Ministry of Health and the Central Women Union of Vietnam also launched the program " Joining hands for Vietnamese health condition", aiming to mobilize enterprises and businesspersons to help these special groups buy health insurance.

Pham Dang Quyen, Deputy Chairman of People's Committee in Thanh Hoa Province, said that very a few residents in the province bought health insurance. To date, over 130,000 near-poor people in the province have not bought health insurance.
Hence, the local governments will inform them of the benefit of health insurance to urge them to buy it.

On the same day, the delegation led by Health Minister Nguyen Thi Kim Tien carried out a survey about implementation of health insurrance policies in Hoang Hoa District and Thanh Hoa people's committee, aiming to help the province solve difficulties of health insurance.