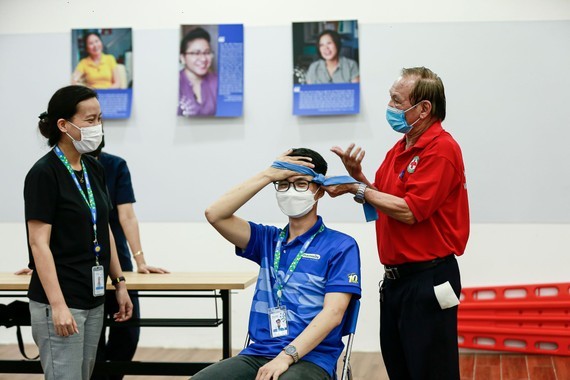 Today, the Vietnam Red Cross and the Urgo Foundation of France launched the program "First Aid Next Door" to provide first aid training for pharmacists at Pharmacity drugstores across the country.
In the first phase of the program, the Red Cross will provide intensive first aid training for 300 Vietnamese pharmacists at Pharmacity drugstores by the end of 2022.
Upon completion, pharmacists will be issued a certificate of identification by the Red Cross to be able to apply first aid knowledge and expertise to serve people right at pharmacies. The Urgo Foundation will sponsor first aid kits for the program.
According to Tran Van Tuan, Vice Chairman of the Ho Chi Minh City Red Cross Society, improving the quality of first aid and first aid is identified as an important solution, contributing to reducing human losses in traffic accidents.
Currently, roughly 170,000 to 200,000 people receive first aid training by the Red Cross each year to give medical aid to injuries in the country. Vietnam's population has reached 99 million. Continued training should be made to increase the number of people with medical first aid skills and opening more rescue sites across the country is necessary as this will contribute to healthcare coverage for the health of people in the country.
According to Mr. Pascal B. Auzière, representative of Urgo Foundation, pharmacists are experts who have specialized knowledge in medical and public health to serve treatment. Pharmacists are trained in first aid skills to bring first aid services closer to everyone.
Mr. Pascal B. Auzière emphasized that the success of the First Aid Next Door program is directly measured by the number of people who will access first aid in 63 provinces and cities of Vietnam, so providing training to shop assistants who work for more than 1,000 Pharmacity pharmacies across the country will make it easier for the program to achieve its goals. It is expected that the program will combine with more drugstore systems in Vietnam in the future.
According to statistics from the Ministry of Health, Vietnam is considered one of the countries with a high rate of death from injury in the world. In 2018, there were 1,226,704 accidents and injuries, including 9,745 deaths. Death from traffic accidents is the leading cause, accounting for 47.91 percent, followed by drowning 12.31 percent and other accidents.