Three passengers who arrived at Ho Chi Minh City's Tan Son Nhat International Airport on May 3 with high fever have tested negative for influenza A/H1N1.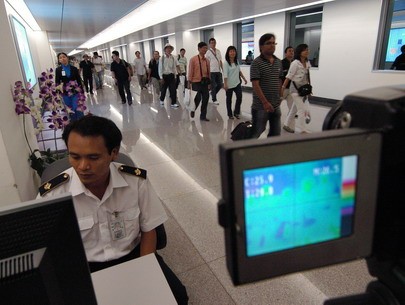 A thermal scanning system in use at Tan Son Nhat Airport, HCM City, to check passengers for symptoms of flu A/H1N1
One of the passengers was from Hong Kong, where Asia's first confirmed case of the disease was reported, and the two others from the US, where the government has reported 226 laboratory confirmed human cases, including one death, a city health official said.
Dr. Hoang Ngoc Hung, deputy director of the airport's international health quarantine center, said airport personnel discovered a girl arriving from Hong Kong with a high temperature on May 2 and isolated her.
The girl was rushed to the Pediatric Hospital No. 1 for tests and the two others were taken to the Tropical Hospital. All tested negative for the A/H1N1 flu virus, according to Phan Van Nghiem from the city Department of Health.
He added that his department has ordered medical workers to keep a close eye on all three.
Authorities in districts around Tan Son Nhat Airport, including Districts 12, Tan Binh, and Tan Phu, have taken measures against the disease.
Minister of Health Nguyen Quoc Trieu instructed the National Institute of Hygiene and Epidemiology to enhance surveillance of flu A/H1N1 as well as other dangerous epidemics.
The ministry has asked the government for a sum of VND230 billion (US$13million) for installing equipment and carrying on prevention activities.
It has also asked the World Health Organization for 600,000 protective costumes for health workers, 15,000 soaps for washing hands, and Tamiflu pills.