Some 21 residents in the central city of Da Nang were hospitalized September 19 with food poisoning after eating steamed sticky rice in streets.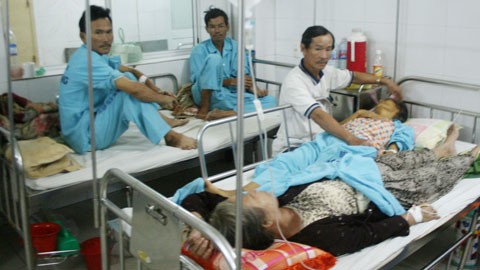 Food poisoning victims in the General Hospital in the central city of Da Nang
21 people in Da Nang's district Thanh Khe got the symptoms like tiredness, vomiting, and dizziness even some suffered low blood pressure after eating the food of a street vendor, Huynh Thi Sau, who also contracted food poisoning in the morning of September 19.
The food was made by Sau's daughter to sell in front of a school in district; however, many pupils quit school on that day so Sau went around to sell it, according to her.
Of 21 food poisoning victims, 5 are members of a family. Da Nang General Hospital's Digestive Department is treating 6 serious cases with low blood pressures and high fever while the Children Department admitted 10 people including a 17 month old toddler.