Dr. Tran Nguyen Truyen from the Department of Health in the central province of Nghe An yesterday said streptococcal infection type A is the cause of acute glomerulonephritis in children in Hanh Dich Commune in the province's Que Phong District.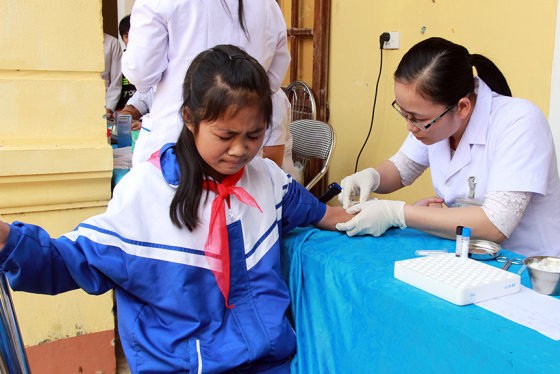 A medical worker takes blood for tests (Photo: SGGP)
Before, the National Institute of Hygiene and Epidemiology took blood samples of eight students to verify the cause of the disease. Test results showed that six over eight samples were positive for the streptococcal infection type A.
At the same time, the local health authority took blood samples of ten patients for tests. Test results showed that five out of ten samples were positive for ASO test is primarily used to help determine whether a recent strep infection with group A Streptococcus.
Meantime, tests of three water samples taken from school and students' houses showed that metal content did not exceed the limit.
Currently the Department of Health in Nghe An Province is waiting for other test results to arrive at the final conclusion.
Acute glomerulonephritis following streptococcal infection is characterized by the sudden appearance of hematuria, proteinuria, red blood cell.