The World Bank said Wednesday that it and the State Bank of Viet Nam have just signed an agreement to provide increased coverage of essential health services, particularly at the commune level in the northern uplands and central highlands.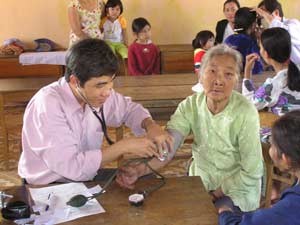 The poor will benefit from the € 11.45 million grant from the European Commission
The health care support project will receive 11.45 million Euros in grant from the European Commission, and will be administered by the World Bank.

The Vietnamese Government will provide 1.4 million Euros in counterpart funding. This project is part of a broader program of support between the European Commission and the Vietnamese Government.
The project will be implemented in the provinces of Lai Chau, Dien Bien, Son La, Kon Tum and Gia Lai, and expect to benefit about three million people, mostly ethnic minority and poor people, said the WB.
This project will support delivery of priority health care packages, such as maternal health care, community-based malnutrition prevention and treatment, integrated management of childhood illnesses, child immunization, reproductive health, etc. The project also aims to support district health departments to better plan for the delivery of health care services.
The Ministry of Health will be carrying out the project, which is set to complete in 2010.