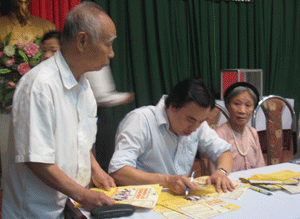 Two old persons , Trinh Thien He and Dao Thi Nhan, register to donate corneas upon their death in Tu Liem District, Hanoi on May 28
According to data of Vietnam Red Cross Organization, Vietnam National Institute of Ophthalmology, and ORBIS Organization, 11,000 Vietnamese people have agreed to donate their corneas upon death, 79 of which have already been used to cure eye illnesses.
Statistics also shows that currently, about 300,000 Vietnamese patients have become blind due to corneal diseases, with around 15,000 more each year. The only treatment for these conditions is cornea transplant surgery.