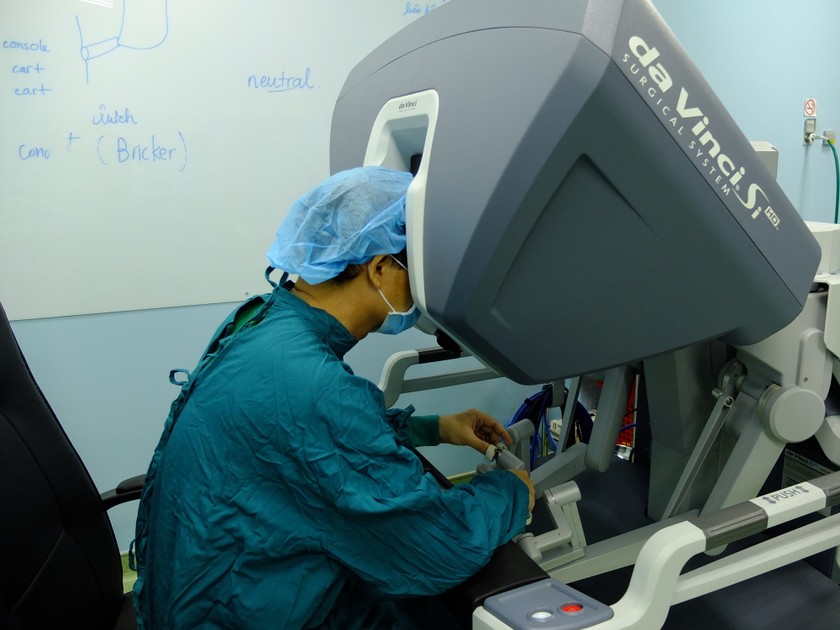 A surgeon in Binh Dan Hospital performs a robot-assisted surgery
The city health sector's aim for the constructiosurgeon in Binh Dan Hospital performs a robot-assisted surgery of a modern, qualified, equitable, efficient and international health system is always the desire of each healthcare worker in the southern largest city.
Up to now, medical facilities in the city have been equipped with a hospital information system (HIS) - an element of health informatics that focuses mainly on the administrational needs of hospitals, network infrastructure, hardware for hospital management applications, and professional expertise.
There are hospitals that have completed the communication system of HIS-LIS-PACsand electronic medical records (EMR), some have developed specialized applications that bring certain effects. However, the digital transformation of the city's health sector is still not equivalent to the stature of a dynamic and creative locality.
Many medical facilities have a lot of determination in deploying applications and developing digital and smart technologies. Nearly 100 smart medical products of the healthcare industry in Ho Chi Minh City during the voting campaign for the first Smart Health Award - 2019 based on technology platforms such as cloud computing, internet of things (loT), blockchain, artificial intelligence (AI), and big data have showed hospital managers' determination to use digital applications and smart technologies. Award-winning products aim at serving people, medical staff in professional activities and infirmary managers.
However, many medical facilities at present want to accelerate digital transformation and build smart healthcare, but they have bumped into many difficulties and challenges including those relating to shortage of IT human resources, environment for application and development of digital technology, asynchronous and improper investment in IT infrastructure in health facilities which fail to meet the expectation of developing smart technology, digital technology. Furthermore, present regulations and internal processes are still complicated and need to be changed to suit the digital-based working environment.
Big data includes information that is generated, stored, and analyzed on a vast scale, too vast to manage with traditional information storage systems. In health care, the move to digitize records and the rapid improvement of medical technologies have paved the way for big data to have a big impact in the field. Building big data of the health sector is an important goal in Ho Chi Minh City's digital transformation, contributing to administrative reforms and facilitation of people's service use.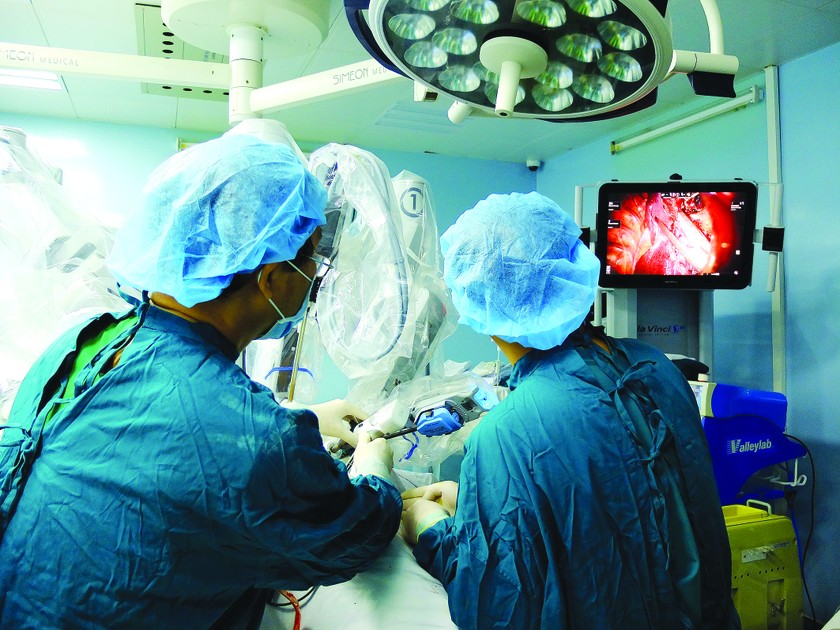 Two surgeons in Binh Dan Hospital performs a robot-assisted surgery
In addition to activities aimed at promoting the application of AI and IoT in the medical field, hospitals and medical facilities need to further promote the application of IT for health workers and patients' convenience and increased satisfaction.
Specifically, the applications of IT will help people more conveniently using medical examination and treatment services. Moreover, patients can easily interact with healthcare staff so that they can self-manage their health. IT applications can help set up electronic health records of each citizen and doctors access new scientific knowledge, new techniques. Plus, IT apps can help reduce administrative procedures and paperwork in hospitals and physicians in grassroots medical centers can easily connect with their peers in big infirmaries for consultation and advice.
Each medical staff must master digitalized technologies to take care of patients better; hence, medical facilities ought to share experiences with other establishments on how to deploy IT applications, digital transformation and building smart healthcare with the orientation towards construction of a modern health system and center in Southeast Asia.
Trends in medical technology in Vietnam
Technology applied in healthcare in Vietnam is divided into two main areas including technologies applied in healthcare and information technology to manage medical data. Some medical technology trends in Vietnam:
- Personal medical records (store all information related to patients' health since birth, including immunization information, blood type, medical history, medical examination and treatment results)
- Telemedicine
- Digitized health information help reduce office work load; therefore, doctors and nurses have more time for their expertise.
- Applying artificial intelligence and automation (building electronic health records, supporting diagnosis, making clinical decisions, managing medical examination and treatment, research on robotics in healthcare)
- Remote monitoring (collecting information, analyzing data to transmit to doctors, saving time for medical staff, early warning of risks, reducing intervention and emergency examination for patients.)
Five main groups of activities when building smart healthcare:
1. Digital transformation and construction of a database of the health sector, while contributing to the city's big data
2. Deployment of IT applications to increase utility for patients who need medical care
3. Implementation of IT applications in professional work and facility management, contributing to improving the quality of health care in hospitals and medical facilities
4. Implementation of IT applications in the reform of administrative procedures and state management of the health sector
5. Implementation of IT applications to maintain universal health care coverage in the post-Covid-19 period and in the new normal.