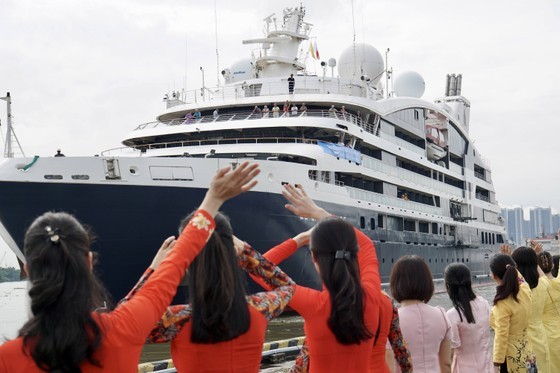 Welcoming international passengers on a ship at Bach Dang Wharf. (Photo: SGGP)

The two important documents for domestic water transport growth are Decision No.21/2022/QD-TTg about mechanisms and policies to encourage water transport, effective as of December 25, 2022 and Decision No.1269/QD-TTg about plans and policies, solutions for the Planning of water transport infrastructure in the 2021-2030 period, with a vision to 2050.
A visit to Bach Dang Waterbus Station in District 1 of Ho Chi Minh City on December 28, 2022 revealed that most passengers on Waterbus No.SG-8155 were foreigners wishing for a river tour. Since the establishment in 2017, the station has mostly served international tourists, accounting for 85 percent, with the purpose of river sightseeing.
This means water transport in HCMC is mainly for the tourism's sake, not the purpose of sharing the burden of road traffic inside the city.
The HCMC Department of Transport informed that the city's waterway system is 975km long, with an average density of 0.181km/1,000 residents and 0.465km/km2, which is 73 percent compared to the one of the Mekong Delta – the highest waterway density in the country. HCMC has nearly 100 inner-city routes and 5 national ones, having a total length of 598.7km and 100km, respectively.
Many of those local routes link the inner city with the new seaports, and thus can serve both passengers and tourists. The inter-provincial routes travel pass provinces of the Southwest and Southeast regions like the 320-kilometer route from HCMC – Long An Province – Tien Giang Province – Dong Thap Province – Hau Giang Province – Kien Giang Province – Ca Mau Province, and another route from HCMC – Dong Nai Province or Binh Duong Province via Dong Nai River and Saigon River.
These routes practically connect all important areas of the Southern key economic zone with international ones. This has created a huge advantage with HCMC being a traffic hub. The fact that Nha Rong – Khanh Hoi Port can accommodate large-scaled ships from other nations and is located in the downtown area has turned HCMC into an ideal destination for global water transport and international tourism.
Owning such advantages, water transport in HCMC still cannot reach the expectation. One prominent reason is the low navigational clearance of current river bridges in the city. There are now 218 bridges in both local and inter-provincial water routes from HCMC, 102 of which cannot satisfy the necessary navigational clearance for water transport development.
Another difficulty is a low attention to investment in the construction of embankment systems against landslides, the dredging of rivers, and the maintenance of existing infrastructure.
Statistics show that the proportion of freight transport via waterways in 2019 was nearly 40 percent of the one via roads, yet the percentage of investment in water transport only accounted for 5.4 percent of that in road transport. In particular, the total capital amount for water traffic infrastructure in the last 5 years has reached VND1.49 trillion (US$63.3 million), while the one for road traffic has come to VND27.3 trillion ($1.16 billion).
Other challenges include a lack of systematic planning for boat stations inside the city and no suitable mechanism to develop the riverside economy (tourism, entertainment). Many boat owners commented that unless there are sufficient boat stations throughout the city, water transport can never develop to its fullest potential.
One issue worth consideration is the low use of private water vehicles to share the burden of road traffic.
To gradually tackle current problems above, Vice Chairman of HCMC People's Committee Bui Xuan Cuong has just directed the municipal Departments of Planning & Investment, Transport, and related state agencies to consider increasing the navigational clearance of Binh Trieu 1 Bridge, built before 1975 and repaired in 2010. It should be 7-9.5m instead of 5.5m now for more passenger and freight ships to travel more conveniently.
The Transport Ministry has stated that Saigon River is one critical part of the domestic waterway system in the Southeast region to transport goods from the provinces of Tay Ninh, Binh Phuoc, Binh Duong to HCMC and Cai Mep – Thi Vai seaport in Ba Ria – Vung Tau Province. Therefore, such increases are a must.
As to the launch of private water vehicles in HCMC, Deputy Director of the HCMC Transport Department Bui Hoa An stressed that it is not yet possible to carry out owing to a lack of proper legal mechanism, management method, and infrastructure (boat stations).
Office Chief of the HCMC Committee of Traffic Safety Nguyen Vu Hanh Phuc commented that thanks to the intricate river and canal network in the city, there is a huge potential for local water transport, which will in turn help to lower logistics cost and increase the competitiveness for domestic goods.
Experts have already revealed that the shipping cost on road transport is normally 10-60 percent higher than that on water transport, while the latter can accommodate large amounts of freight without polluting the environment much.