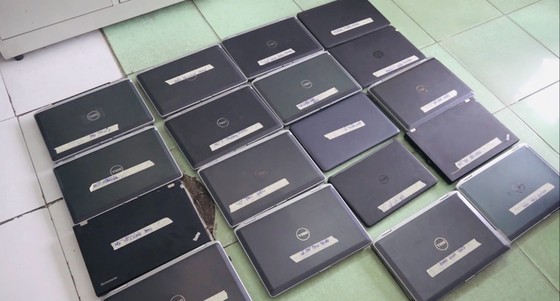 Exhibits of the scammers seized by the police

The Public Security Division of Binh Thanh District has just received a report from Ms. C about being approved a loan by a person posing as a bank officer. Accordingly, this person asked her to carry out a procedure ending with the step of money depositing to a certain account for disbursing her loan. Trusting that person, she transferred VND55 million (US$2,345) to this scammer. A while later, realizing that she was tricked, Ms. C came to the police.
After identifying the criminal, the Binh Thanh District Public Security Division quickly arrested and then prosecuted 8 subjects in the criminal line of appropriating property via electronic devices and the Internet. The police seized many computers, mobile phones, more than 50 sim cards, and other Internet-connected devices.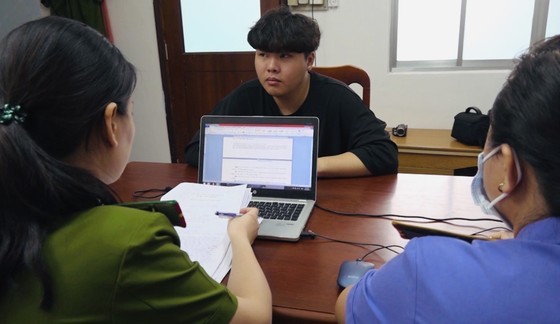 A subject in the criminal line of property appropriation in Binh Thanh District

At present, citizens can easily open multiple accounts at different commercial banks, yet are unable to foresee possible risks of law violation when trading these accounts due to lack of law understanding. Therefore, they are highly vulnerable to criminals' tricks whenever receiving lucrative account buying prices and agreeing to trade their accounts to unidentified subjects.
By doing this, these account owners have unintentionally aid criminals to carry out illegal activities such as money laundering, property appropriation via fraudulence or high technology use, not to mention that those account trades might be directly or indirectly unlawful.
Since August 2022, various foreign subjects have bought 118 bank accounts for the purposes of transferring money obtained via crimes.
Hence, citizens should carefully use and manage their personal bank accounts and be highly aware of criminals' tricks. When detecting anything suspected, they should immediately report to the police for timely addressing the issue.