Ho Chi Minh City's councilors have set 2007 as 'Year of Administrative Reform' to keep improving the business environment towards a new foreign investment wave to further enhance the southern hub's high economic growth rates.
The People's Council set the main socio-economic targets for next year during its 9th session from December 7 to 12, striving to increase its economic growth by 12.2-12.5%.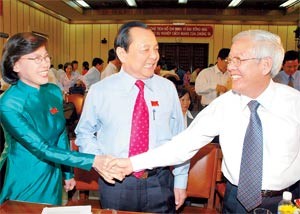 (From L) People's Council chairwoman Pham Phuong Thao, Party chief Le Thanh Hai and People's Committee chairman Le Hoang Quan show their determination to carry out next year's targets (Photo: SGGP)
The city expects to mobilize a total investment of VND74.5 trillion, provide 250,000 jobs in 2007, and reduce the unemployment rate to under 5.6%.
Mr. Le Hoang Quan, chairman of the People's Committee, underscored the six key tasks for the new year: administrative reform, carrying out World Trade Organization commitments, fighting corruption, mobilizing different capital sources, improving living conditions, and improving operations of the People's Committee.
He stressed that all city officials must really be devoted civil servants for the sake of the city dwellers.

At the closing session, People's Council chairwoman Pham Phuong Thao emphasized the GDP target, programs to boost the city's key products and services, efforts in the combat against corruption, administrative reform, construction of houses for resettlement, cultural administration, education, health, environmental protection, and food safety and hygiene programs.
On the final meeting day, the People's Council decided that Mr. Nguyen Van Dua be dismissed from his present post as People's Committee vice chairman to receive a new position.