GUATEMALA CITY (AFP) – Guatemalan rescue teams searched for survivors Monday after landslides caused by heavy rains killed at least 38 people around the country and left nearly two dozen others missing.
President Alvaro Colom declared a "national tragedy" as fears grew the eventual toll from scores of landslides across the country set off by weeks of torrential rain could be far higher.
"It's a national tragedy," Colom said as he visited a site where up to 40 people were feared to have been buried alive in a mudslide.
"This weekend alone we have seen damage comparable to what we experienced with Agatha," he added, referring to a tropical storm in May that killed 165 Guatemalans and left thousands homeless.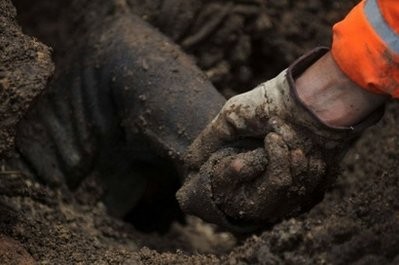 A rescuer holds the arm of the body of a person buried by a landslide in the Nahuala municipality, Solola, west of Guatemala City, on September 5, 2010. AFP
Officials said 40,000 people had lost their homes and another 11,686 had been evacuated.
A fresh mudslide in northern Guatemala late Sunday killed one person and injured eight, including two children, bringing the overall death toll to 38, officials said.
"Top priority at present is dealing with this emergency," Colom said as he toured the devastation and put the cost of the damage, in one of the poorest countries in the Americas, at up to 500 million dollars.
Rescuers on Sunday dug nine bodies out of a 300-meter (1,000-foot) deep ravine off the main Pan-American Highway, west of the capital Guatemala City.
Fire service spokesman Cecilio Chacaj told AFP some 40 people had been buried in mud there even as they tried to help the occupants of five vehicles and a bus swept into the abyss by a previous landslide.
Ten people were killed in a separate incident on Saturday when a second bus on the main highway was buried near the town of Chimaltenango. Rescuers managed to unearth 20 survivors.
A landslide also buried a family of four inside their house in the western region of Quetzaltenango, while 13 more people were killed in separate incidents around the country.
Heavy rains Sunday afternoon forced rescue work to be suspended until Monday, said David de Leon, a spokesman for the national disaster response effort, adding that the latest figures showed 37 dead and 23 missing, down from 40 missing earlier in the day.
In Nahuala municipality, rescuers in bright orange uniforms used shovels, hoes and their hands to unearth the corpses of victims. Among the dead was Manuel Sohon, whose uncle Manuel Ajtzalam wept as he identified him.
Guatemala's National Coordination for Disaster Reduction listed almost 200 landslides, wall collapses and mudslides across the country.
Three regions in the country's south, Escuintla, Retalhuleu and Suchitepequez, were placed on red alert.
With more heavy rain forecast, authorities have closed part of the Pan-American Highway.
"This section of the road has been declared impassable," Communications, Infrastructure and Housing Minister Guillermo Castillo told reporters. "It will not reopen until we are sure a similar tragedy will not occur again.
Colom also ordered rescue workers to halt operations if heavy rains passed through the area again.
He warned he had little funds left to cope with the disaster as the country was still struggling to recover from the killer storm Agatha in May.
Central America has been lashed by an unusually fierce rainy season this year. The recent bad weather has killed 55 people in Honduras, at least 40 in Nicaragua, nine in El Salvador and three in Costa Rica.
Worryingly, the downpours have come ahead of what is traditionally the worst part of the rainy season, which lasts until October 30.