* Record bonus for narrow escape

The owner of Hanoi ACB, Mr. Nguyen Duc Kien, gave his team a record bonus of VND200 million yesterday after they narrowly escaped the relegation play-off.
Usually the bonus is VND60 million for a win at home and VND80 million for an away victory.
The players have been given three weeks off before they begin training for the new season.

* Ninh Binh boys score hefty reward too
Ninh Binh's players and trainers received a VND200 million bonus straight after their 3-1 win over Can Tho, a record for the club. They are having a month's rest before training for the next season starts.

* Hoa Phat Hanoi train in Danang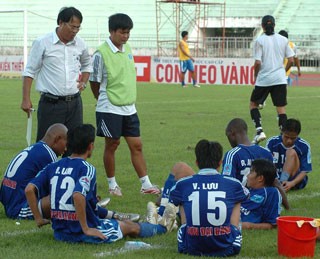 Coach Tran Binh Su (L, standing) and his men have a further 90 minutes to keep their place in the V-League
Hoa Phat Hanoi players traveled to Danang yesterday for a few days of training and acclimatization before their relegation play-off against An Giang on September 28th. Hoa Phat Hanoi's coach says his team should have an edge in the upcoming encounter as all of its five foreign players are in good form.

* Nguyen Minh Chuyen recuperates after knee surgery
Dr. Vuong Huy Dong says the knee operation on Nguyen Minh Chuyen was successful and believes the national and Southern Steel Saigon Port midfielder will be fit for the South East Asian Games in December. The knee will stay in plaster for two more weeks.