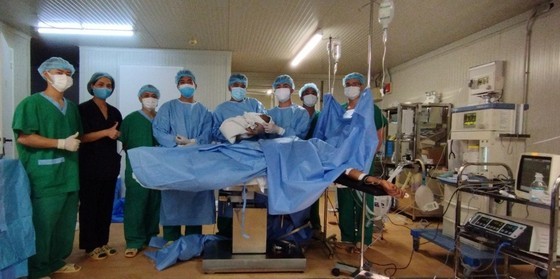 First baby girl has been successfully delivered at Level 2.4 field hospital in South Sudan
Doctors said that the first baby girl born at the hospital weighed 3.5kg. Her 30-year-old mother of Gambian nationality was admitted to the hospital with symptoms of labor. She was 39 weeks pregnant and she had already delivered two babies normally. As soon as the patient was received, the crew handled and supported her promptly.
With the situation of the patient in labor, after two hours of performing normal delivery, Major, Dr. Le Viet Anh, Deputy Director of the field hospital decided to ask permission from the medical commander of the mission to have an emergency cesarean section because the mother was in a dangerous situation, thereby she could not be transferred to a large infirmary by air.
In the lack of material conditions, especially the conditions for newborn care, the field hospital staff took each cotton towel and personal blanket for the baby. In a short time, the female soldiers of the field hospital were able to sew three sets of diapers and newborn shirts for the baby.
With a successful emergency of the pregnant women and welcoming the first child member, doctors and nurses of the field hospital received high appreciation from the medical commander of the mission for their accurate diagnosis and surgery decision as well as good care and support for the mother and baby. The commander of the base and the commanders of agencies came to congratulate the pregnant woman and the surgical team of the field hospital expressing their gratitude for the expertise as well as the dedicated care of the medical staff.